Southern Cross, Christchurch save 3-y-o Timor-Leste child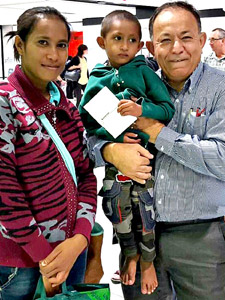 Deolindo, a three-year-old boy from Timor-Leste was diagnosed with testicular cancer. The only option was to administer chemotherapy at the GVNH-National Hospital in Dili. This procedure though had never been attempted before, but after much discussion, Australian oncologists offered to guide and supply chemotherapy drugs to Dr Ingrid Bucens in Dili. This was the only opportunity that could provide young Deolindo with a chance of recovery.
Dr Bucens commenced treatment and gradually, over 6-months, the tumour shrunk and Deolondo was clear of the cancer. Now, the remains of the tumour had to be surgically removed.
Visiting paediatric surgeon Dr Bowkett from New Zealand was very impressed with the progress made, but advised the operation would be more complicated than first anticipated and surgery would be required in New Zealand. He referred the case for assistance from ROMAC.
Dr Bowkett and a team of specialists at the Southern Cross Hospital in Christchurch operated successfully, with a very happy Deolindo and mum Marciana returning home 3-weeks later.
Rotarians Diane and Murray home hosted and they will never forget the rewarding impact it had on their lives and experiencing so much love and caring by so many people.
More Patients Stories from East Timor